The National Concrete Bridge Council (NCBC), with its supporting organizations, is pleased to bring you a webinar series on Cutting-Edge Techniques to Assess, Repair, and Protect Concrete Bridges for Extended Service Life.
The 6-part series, supported by Vector Corrosion Technologies and VCS Engineering, includes interactive sessions where industry experts explore innovative techniques for assessing, repairing, and safeguarding concrete structures. Whether you're involved in bridge design, maintenance, or construction, this series offers valuable insights for sustainable and resilient infrastructure development. Don't miss this opportunity to stay at the forefront of concrete technology and enhance the durability of your infrastructure projects. Certificates of attendance are available for each of these FREE virtual workshops.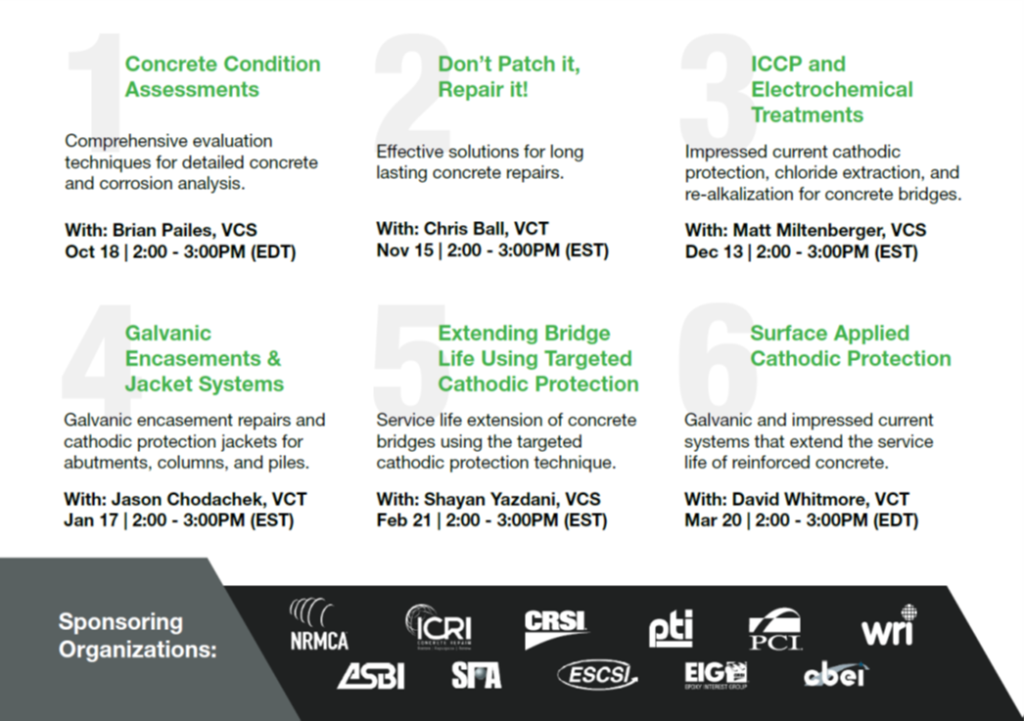 "A PRIMER ON LIGHTWEIGHT CONCRETE FOR BRIDGES"
Webinar: Held March 29th, 2023
Presented by: Reid Castrodale PhD W. PE
Hosted by ASBI and NCBC
This presentation introduces the Lightweight Concrete Bridge Design Primer that has been published by FHWA to provide a document with the basic information needed for designing and specifying lightweight concrete bridges and to address perceived obstacles. The document includes: 1) an introduction to the production and properties of lightweight aggregate and lightweight concrete; 2) an overview of the information needed for design, including a discussion of how to assess the relative cost of lightweight concrete; 3) a discussion of design provisions in the LRFD Specifications related to lightweight concrete, including recent revisions that have clarified design process and have improved the efficiency of designs using lightweight concrete; 4) information on specifying and field use of lightweight concrete; and 5) brief discussions of a range of bridge projects where lightweight concrete has been successfully used. The concept of using prewetted lightweight aggregate to deliver curing water to the interior of concrete elements, or "internal curing," is briefly discussed. The Primer includes references to allow readers to obtain additional information when it is needed.
Read the primer
Watch the webinar recording
View the presentation slides

Webinar recordings now available! Click here to register and access the webinar recordings.
The National Concrete Bridge Council (NCBC), with its supporting member organizations, is pleased to bring you recordings from the summer's premier virtual workshop series on concrete bridges and how to repair, maintain, and extend their life cycle.
The 6-part series, supported by Structural Technologies, included interactive sessions with industry experts sharing proven methodology which identifies root causes of issues encountered on concrete bridges and provides guidance for optimal solutions and design strategies. Understanding this holistic approach dispels perceived limitations in our ability to repair and preserve concrete bridges. Tools are provided to help owners and practitioners be the best possible stewards of critical transportation infrastructure.
Sessions:
Fundamentals of Concrete
Evaluating Concrete Bridges
Analyze, Design & Select the Solution
Concrete Repair 101
Strengthening Bridge Assets
Delivering Long-Term Bridge Protection
Presentation on FHWA's Post-Tensioned Box Girder Design Manual
NCBC proudly sponsored a presentation by noted bridge engineer and author John Corven on FHWA's Post-Tensioned Box Girder Design Manual. Mr. Corven spoke to a group of university professors at PCA's annual Professors' Workshop. Captured on the video below, Mr. Corven goes through the key points of the manual, and provides insights for both practitioners and academics.
FHWA's Post-Tensioned Box Girder Design Manual reviews features of the construction of cast-in-place concrete box girder bridges, material characteristics that impact design, fundamentals of prestressed concrete, and losses in prestressing force related to post-tensioned construction.
John Corven, President and Chief Bridge Engineer, of Corven Engineering. John has been designing, inspecting, and rehabilitating prestressed concrete bridges in the United States and Internationally for over 38 years.
---
Your Authoritative Resource for the Design and Construction of Concrete Bridges
---
DEDICATED TO:
Promote quality in concrete bridge construction.
Gather and disseminate information on design, construction, and condition of concrete bridges.
Establish communication with state & federal transportation departments, public works departments, and consulting engineers.
Provide information on behalf of the concrete industries to codes and standards groups
---