Arch
Concrete Arch Bridges may consist of either a single arch or multiple arches supported by abutments and intermediate piers.
Features:
Most efficient shape for supporting gravity loads.
Economical way to traverse small distances.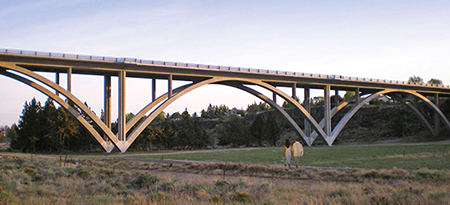 ---
Box Beam
A box beam bridge is supported by abutments and piers in the same way as a simple or continuous beam bridge.
Features:
Common bridge type, especially for low-volume roads.
Well-suited for spans from 50 feet to 120 feet.
Common widths of 36 or 48 in.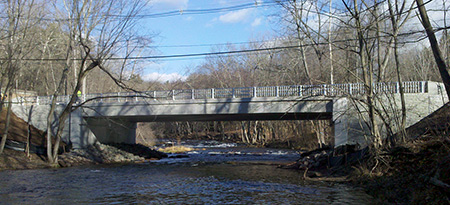 ---
Cable-Stayed
A more recent type of bridge currently gaining in popularity as a "signature" structure is the cable-stayed bridge with a cast-in-place, reinforced, or segmental deck.
Features:
Economical and aesthetically pleasing.
Economical way to traverse small distances.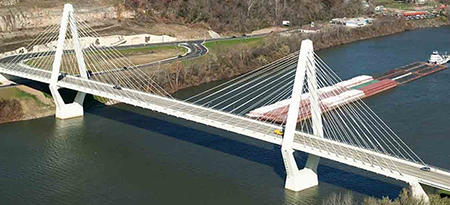 ---
I-Girder
A simple beam bridge is commonly used for moderate spans. Variations of the precast I-girder include the PCI bulb-tee or bulb-tee sections developed by various states.
Features:
Most popular bridge type.
Well-suited for spans up to 160 feet.
Common depths: 20 in., 36 in., 45 in., 54 in., and 72 in.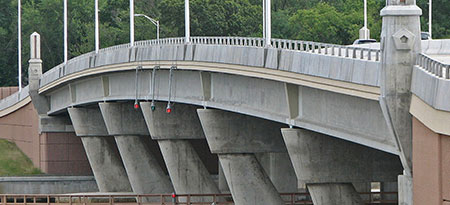 ---
Segmental
Segmental bridges are popular when the constructions site is restricted. They can be cast-in-place or precast, and can employ span-by-span or balanced cantilever construction.
Features:
Perfectly suited for gradual and sharply curved alignments.
Maximum span is greater than 300 feet.
Repetition of short spans: 70 feet to 150 feet.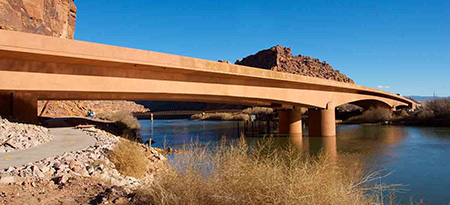 ---
Slab
Slab bridges may be composed of single or multiple spans.
Features:
Simple, easy to construct
Well-suited for spans up to 50 feet.
For longer spans, continuity with abutments and piers can mobilize frame action.